Evinci, like many other brands selling in New Zealand like Pedego, Ezee, Flying Cat, Smart Motion are made in China. The main difference between generic produced Electric Bikes made in China as you might have seen them on Aliexpress and our ebikes is that we have defined down to the screws what parts and frame geometry have to be used. This means also that you won't see the same bike from another retailer or importer. To ensure that we get the quality we have defined we travel on a regular base to China to overlook the production.
Please read in the following sections about the parts and approach we used for our base models TUI, FALCON and ROBIN.
Frame and mechanical concept
Evinci TD frames are hydro formed and precisely welded from aluminum alloy 6061 In the design process we took extra care about:
Frame strength
Riders comfort
Good handling and safety
Aesthetics
Due to this we made sure the seat and handle bars were wide and easily adjustable so it makes very versatile bike where everyone can have a great level of comfort. To achieve good handling and control we chose a popular alternative and placed the battery under the seat and motor in the rear. This solution improves the centre of gravity and keeps the front wheel light. This means also for the low-step frame that no battery is in the way when getting on and off the bike.
Fork, Wheels, Bottom Bracket, Brakes
Front fork
Suntour - high quality and very popular choice with 100 mm travel. Adjustable alloy front fork. Very smooth. Made in Taiwan
Rims
Double wall rims - It's aluminum alloy profile makes a very strong structure that resists bending. Choice for extra safety and to achieve durability.
Hub
Joytech- good material quality and water tight design made in Taiwan
Bottom bracket
Neco bottom bracket - Neco are famous quality bike components. So we used it for a trouble free run. Made in Taiwan.
Brakes
Very important part. For extra safety and easy maintenance we use Shimano M375 disc brakes for front and rear. Big 180mm rotors make it easy to stop your bike even when going 40 kph.
The electrical part of Evinci bikes
The basic concept is very simple and is built from six main components: Battery, motor, controller, display, cadence sensor and throttle. It is important to select the components for each situation right so one component does not overrule any to achieve maximum efficiency. The quality of each components is also as important as using them in the right combination. We have been able to develop the best combination of materials and power due to meticulous trials and testing phases, allowing us to build what we want correctly.
Motor
For our current generation of Evinci TD series bikes we have decided to move away from the direct drive motor concept. The more compact and light weight internally geared motors have been proven reliable after many years of development. The motor supplier is the same as for the direct drive motors and we keep a good partnership with this company. The new motor has an internal 5:1 gearbox creating an impressive start-up torque, which makes it easier to take off even at hills. It is build robust and big enough to dispense any excess heat when using the motor over a longer period going up a hill.
Read More about the motors.
Controller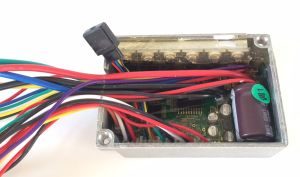 We use a high tech motor controller from Lishui. These controllers use an advanced FOC chipset. This allows the run the motors very quiet with maximum torque. It also includes an over load heat protection to protect Controller and Motor from overheating. Evinci e-bikes are designed that the controller will heat faster than the motor (if overloaded) in such way the motor is protected by the controller's thermal protection as well to prevent it from overheating.
Evinci e-bikes use a hi-tech controller based on a STM8S105S6 microprocessor. This controller has better efficiency and improved over load protection. The high power switching stage uses genuine TOSHIBA Field effect transistors TK80E08K3
We have full access to the developers of the software and changed can be done easily. This allows us to adapt the controller settings to specific customer requirements.
Our design is bullet proof.
The whole circuit board is completely sealed with silicon to protect against moisture and is designed for a maximum load of 18A.