Enjoy the freedom
With our Infinity e-mountain bike, we have chosen a concept of high spec components on an easy to ride frame and motor combination. This bike is perfect for all off-road tracks up to grade 3. Easy to change Shimano gears and the powerful rear hub motor with torque sensor provide a smooth and natural riding experience. If you get tired you may even use the thumb throttle to keep you going.
Are you up for some speed as well? While most e-mountain bikes are limited to 32 kph we have boosted the infinity to 40 kph. So why not taking the infinity also for your daily trip into the office?
With big 180mm rotors and hydraulic brakes even longer downhill rides won't get you in troubles and the adjustable air suspension fork will keep your front wheel on the track. A well readable display shows all necessary information, controlled by left hand mounted buttons. Grippy pedals, a solid side stand and optional accessories like a carrier and mudguards make this bike your perfect choice for long off-road trips, i.e. the Alps 2 Ocean track.
We should also mention that all cables are running through the frame, so no damages can happen when transporting the bike on a normal bike rack.
The new 2021 season model will come in two great colours: midnight blue metallic and copper metallic. Current pictures will be updated as soon as we have them ready.
SPECIFICATIONS
All specifications are valid for our new September 2021 models
RRP $3050 (480Wh battery)
Price valid for new 2022 models
Battery options: 13Ah (480Wh), 14.4Ah (520 Wh), 18Ah (648 Wh) or 24Ah (862 Wh), high quality Samsung cells. Easy to remove, frame locked. Average charging time (13Ah): 4 hrs when empty
Motor: BAFANG 300 W brush less, geared 5:1
Controller: high efficient MOS-FET controller, max. 17A. Drive modes: torque sensor, throttle, manual
Speed: up to 40 kph on motor, maximum allowed speed can be changed by customer
Display: Easy to understand, centre mounted LCD Display with battery gauge and 5 level torque assistance control
Brakes: Front and Rear - Tektro HD-520 hydraulic brakes, 180mm rotors
Range: on assistance level 1 up to 80 km (13Ah), depending on terrain and weather condition. 16Ah range: max. 95km, 20Ah range: max. 120 km
Gears: Front - fixed Prowheel alloy crank with 38 teeth, Rear - Shimano Deore 10 speed (11-36T)
Frame: Alloy 6061, hydroformed, rated load: up to 120kg.
Fork: High end RockShox Judy Gold RL Fork, air suspension, 120mm travel, lock out and rebound, tappered headset tube
Wheels: 27.5"+ double wall 35mm alloy rim, heavy duty stainless steel 2mm spokes, 27.5"+ MAXXIS Reckon 2.6"
Handlebar: Promax 660mm, with adjustable stem, ergonomic Velo grips with hand rest.
Seat: VELO comfort sport seat
Weight: 23 kg incl. battery (13Ah)
Warranty: Comprehensive 2 years warranty on all part, 6 years on frame (wear and tear excluded)
Frame sizes: 17" (S-M) - for riders from 158-176cm, 20" (L-XL) for riders from 170-195 cm
Riding modes: zero support: just use it as normal push bike, torque sensor assistance: this sensor is integrated into the crank (bottom bracket) and measures how much the rider pushes into the pedals. The more you push the more power the motor puts out. Throttle: left hand mounted thumb throttle for extra support.
Optional accessories: Alloy carrier, mudguards, rechargable Hi-Power front and rear LED lights, 12V car and motorhome charger, batteries upgrade options: 14.4Ah (+$210), 18Ah (+$395), 24Ah (+$750)
Rockshox Judy Air Fork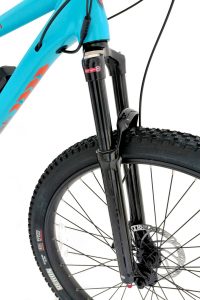 This fork features a 120mm travel with a full air suspension (no springs!). Highly tunable Solo Air™ air spring: On the left side the rider can adjust the pre-load by pumping the cartridge to the desired pressure while the right side cartridge offers a compression wheel and rebound adjustment valve. With these adjustment options the rider is able to get exactly the right suspension behaviour for the typical tracks he or she is riding. For best comfort and safety. (Note: picture does not show the correct fork yet)
Keep standing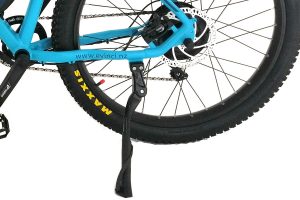 While most traditional MTBs do not come with a stand - ours does. We think it's not a good option to lay your precious bike into the dirt. Especially when you have bags on the carrier. The stand is mounted at a position where it will support the rear weight and at the same time it is not in the way when you want to move your bike backwards.